Glenridding zip wire plan dropped after opposition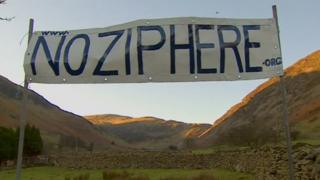 Plans to install a mile-long zip wire on a Lake District fell have been dropped following opposition.
Treetop Treks wanted to run the cable from an old lead mine above Glenridding, allowing people to travel across the valley at speeds of up to 60mph (96kmh).
A poll of residents saw 13 people back the idea with 324 opposed.
The firm's Mike Turner said "the local community has made their views very clear".
In a statement, he added: "Whilst I obviously regret not having been able to develop the concept into a proposal, I will stand by our commitment not to pursue this any further in Glenridding.
"I am grateful for having had the opportunity to debate what was always going to be a contentious topic and in doing so have at least demonstrated that the zip wire concept is valid and broadly acceptable in the right location.
"I would like to thank the community again for their time. It is to their complete credit that they have been so unified in their response."
'Not worth risk'
People opposed to the scheme argued it could drive away visitors seeking peace and quiet.
Resident Graeme Connacher said: "Everyone is very, very relieved. It's caused an awful of stress in the community, particularly in the last month.
"We don't mind development here, but this sort of thing in the Ullswater Valley really wasn't what we wanted to see.
"We depend on visitors who come here for the walking and the tranquillity. They simply wouldn't come if there was that sort of development.
"The risk wasn't worth it."