Bends bring salmon back to River Lyvennet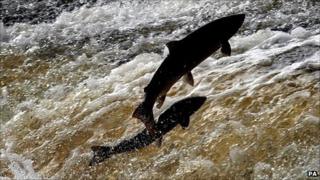 Restoring the bends to a Cumbrian river has allowed a threatened species of fish to return there to spawn.
The River Lyvennet at Maulds Meaburn has had twists and turns returned to it, after previously being straightened for land management purposes.
Atlantic salmon have now been spotted building their nests, known as redds.
The Eden Rivers Trust said the meanders allowed pools and other habitats to form, and also slowed the flow, which can help reduce flooding.
It described the return of spawning salmon as "wonderful news" which would "help to conserve this iconic species for future generations".
The work involved creating new channels, and diverting the river into them.
Sections were also fenced off to prevent farm animals entering the water and destabilising the banks.
The Lyvennet scheme is part of a wider river restoration strategy in Cumbria, and is a partnership between the Environment Agency, Natural England and other river trusts in England.