Cumbria's Moorside nuclear power plant funding plan agreed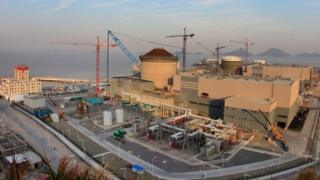 Funding assistance for a new nuclear power plant in Cumbria has been guaranteed by the government.
The Treasury has signed a "co-operation agreement" with developers NuGen, Toshiba and GDF Suez, to help them access a finance scheme for a 3.6GW facility at Moorside near Sellafield.
Three reactors, billed as being able to power up to six million homes, are due to come online in 2024.
A final investment decision is due in 2018.
NuGen chief executive Sandy Rupprecht said the agreement demonstrated its "forward momentum" with the Moorside project.
It was announced in the Treasury's National Infrastructure Plan, ahead of Chancellor George Osborne's Autumn Statement on Wednesday.
The project is currently predicted to be the largest new nuclear development in Europe.
Energy minister Michael Fallon said in June that it would attract £10bn of investment and create up to 21,000 jobs.