Trussell Trust food bank use doubles in Barrow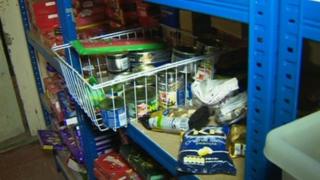 A food bank charity serving south Cumbria has been handing out more than twice as many boxes than it was 12 months ago.
The Trussell Trust said demand in Barrow had increased by 104%, to more than 4,300 parcels, for the first six months of the financial year.
This compares to an average national increase of 38%.
Organisers have put the increase down to a reduction in the stigma attached to using the service.
Ann Mills from the trust said: "People might be in work, but it could be part time work only, zero contract hours only, minimum wages.
"Before they wouldn't come for help because of the stigma attached to coming to a food bank."