Bite warning after South Lakes Safari Zoo monkeys escape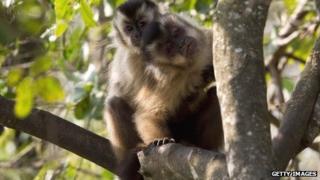 People have been warned not to approach two capuchin monkeys which escaped from a wild animal park in Cumbria.
The juvenile female was reported missing from South Lakes Safari Zoo, formerly known as South Lakes Wild Animal Park, on Saturday.
Police have now been informed that a further primate has escaped.
Although there is no immediate threat to the public, the monkeys are capable of biting or scratching anyone going too near them, police have warned.
Andy MacMillan who works at Ashworth St Garage, in Dalton-in Furness, said one of the primates was spotted sitting on the girders inside the garage.
He said: "It was just sat up on the girder and it just started walking backwards and forwards across the girder.
"We were quite shocked really, but one of the lads had a banana in his packed lunch so he put the banana up and it took the banana and then peeled it and ate it."
Mr MacMillan said he called the animal park to come and retrieve the animal, but when they tried to catch it, it escaped.
He said he "might leave a banana out" in case it returns.
Anyone who spots either of them should contact the zoo.
Capuchins are native to the Amazon basin, about 20ins (51cm) high and recognisable by a distinctive black or dark brown head with dark sideburns.