Sellafield workers' £20m office development opens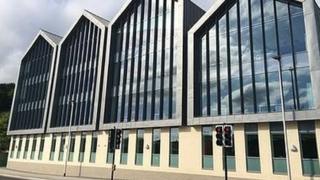 A £20m office development has opened its doors in West Cumbria.
Albion Square in Whitehaven will be home to more that 1,000 office workers, who will be relocating from the Sellafield nuclear plant.
The joint project by the Nuclear Decommissioning Authority, Copeland Borough Council and Sellafield Ltd, is on a site formerly occupied by a scrap metal merchant and an auto company.
There are hopes it will provide an economic boost to the town.
The decommissioning authority said it would be easier for staff who would now no longer have to go through the security system at Sellafield.
Elaine Woodburn, leader of Copeland Council, said: "As a council we've worked for nearly a decade to get this development.
"It's going to increase the footfall by over 1,000, which will be a massive boost to the town."