Third Astute submarine Artful makes maiden dive in Barrow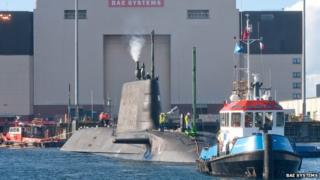 The third Astute Class submarine built at a Cumbria shipyard for the Royal Navy has completed its maiden dive.
HMS Artful, a 97m-long 7,400-tonne nuclear-powered vessel is one of seven being built by BAE Systems in Barrow.
During the "trim and incline test", it was submerged to allow naval architects to calculate its precise weight and centre of gravity and prove its safety and stability in the water.
BAE Systems described the operation as a "significant milestone".
The first two submarines in the Astute class, HMS Astute and HMS Ambush, have now been handed over to the Royal Navy.
Four others - Audacious, Anson, Agamemnon and the yet to be named seventh - are in various stages of construction.
They are capable of circumnavigating the world without the need to resurface.
Tony Johns, managing director of BAE Systems Submarines said: "Successfully completing the trim and incline test is a significant milestone for Artful and a result of years of work by skilled engineers, naval architects and our operations team.
"Our focus is now on completing final test and commissioning activities before she leaves Barrow for sea trials next year."