Flood work to start in South Shields street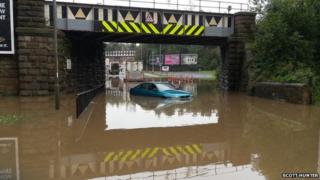 Work is due to start later on a £1m scheme to reduce the risk of flooding along a South Shields street.
Ocean Road was severely hit by flooding in 2012 highlighting problems with the drainage system.
A £2.63m water tank has been installed nearby to divert water away from Ocean Road's sewer which was at capacity even during mild rainfall.
The new phase, which is expected to take about 22 weeks, will see extra drainage installed in the area.
Northumbrian Water installed the storm water storage tank in nearby North Marine Park in the summer.
Councillor Tracey Dixon said: "It is never possible to guarantee an area will be flood free but this additional work and the new storm water storage tank will make a huge difference to one of the borough's worst hit areas."