New £39,000 lifeboat officially named in Workington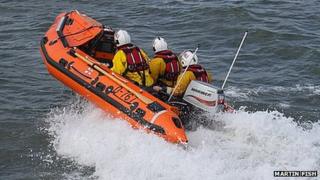 A new £39,000 lifeboat is to be officially named at a ceremony in Workington, Cumbria.
The D Class inshore lifeboat is being named in honour of Nottinghamshire-born philanthropist John F Mortimer.
The vessel, which has been in service since June, was paid for by a legacy of Mr Mortimer, who died in 2008.
More than 150 RNLI volunteers and supporters are due to attend a special naming ceremony at the town's lifeboat station later.
'Prime role'
Tim Chittenden, Workington RNLI operations manager said: "The new lifeboat is both faster and better equipped than our previous model.
"The speed will enable us to react faster to call-outs in the local area and the improved navigation equipment will enable us to search more accurately and in more demanding conditions to fulfil our prime role of saving life at sea.
"The boat is also invaluable in allowing our newer crew members to gain experience and hone their skills.
"RNLI naming ceremonies are always very special occasions when we get the chance to celebrate the arrival of a new lifeboat.
"We are particularly looking forward to welcoming colleagues of John Mortimer's from Nottingham and thanking them for his remarkable generosity and their support."
Mr Mortimer spent most of his career as a partner in a leading firm of chartered surveyors in Nottingham.