Ryan Glendinning jailed for Dominic Loftus crash death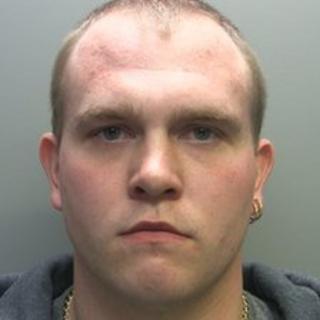 A drunk driver who killed his passenger when he lost control of his car and ploughed into a stone wall has been jailed for five years.
Dominic Loftus, 22, was in the back seat of a BMW when it came off the B5288 between Greystoke and Penrith.
Ryan Glendinning, 24, from Dacre had pleaded guilty to causing death by driving without due care and attention while over the prescribed limit.
He was also disqualified from driving at Carlisle Crown Court.
On the night of the crash, Glendinning had drunk five pints of lager and two whiskies, the court was told, but insisted on driving.
'Thousand cuts'
Glendinning and two other passengers survived the crash, but Mr Loftus died at the scene.
His father, Ian Loftus, said in a family statement: "Everyone has one or two special people in their lives that when something happens during your day you automatically pick up the phone to call or to text them.
"Dominic is still at the top of my very short 'favourites' list and I'm not brave enough to delete him, I don't want to delete him.
"Taking his name out of my phone would seem like closing another door on his life and my connection with him.
"Cancelling his phone contract, his car insurance, his national trust membership, his bank accounts and credit cards, and all the other pieces of his life, is the death of a thousand cuts."
PC Philip Renney, from Cumbria Police, said: "I hope this case serves as a warning to other young people - driving while under the influence of drink or drugs can easily result in tragic consequences, not only for yourself, but possibly your friends.
"What may seem harmless fun at the time can go horribly wrong and will follow you for the rest of your life."