Kendal nurse cleared of misconduct over girl's suicide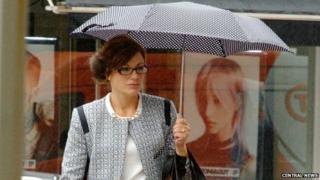 A school nurse accused of waiting six days to refer a suicidal schoolgirl to mental health services has been cleared of misconduct.
Helena Farrell died in January last year, three weeks after speaking to school nurse Donna Moore, the Nursing and Midwifery Council was told.
It was claimed Ms Moore should have referred the 15-year-old girl within 48 hours.
But the tribunal ruled the six days was a "reasonable time parameter".
Ms Moore, a nurse at Kirkbie Kendal School, Cumbria, first saw Helena on 4 December 2012 and noticed potential mental health problems, the Nursing and Midwifery Council heard.
'Cruel misrepresentation'
Lyn Moore, from the Cumbria Partnership NHS Foundation Trust, said the case should have been referred to specialists within 48 hours, as Helena had an eating disorder, suffered from depression and had a history of self-harm.
But Ms Moore's solicitor Stephen Graham told the hearing it was a "cruel misrepresentation" of the evidence to suggest his client could have done more to prevent Helena's death.
The tribunal ruled she had no case to answer in three charges against her.
The panel in central London noted that at the time Ms Moore was in charge of five secondary schools and 20 primary schools in her role as nurse.
Council panel chairman David Boden said: "Bearing in mind your heavy work load, busy work schedule and the fact that you worked part time, and made your referral first thing when you returned to work, the panel concluded that you had made your referral within a reasonable time parameter."