Andrew 'Freddie' Flintoff escapes ban for speeding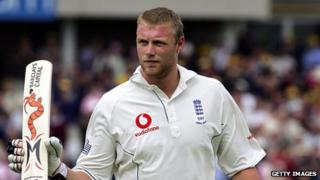 Former England cricket captain Andrew "Freddie" Flintoff has escaped a speeding ban after arguing "exceptional hardship" to magistrates in Carlisle.
Flintoff, 36, was already on nine points for speeding and in danger of an automatic ban after admitting speeding in his Bentley on the M6 in January.
He was caught doing 87mph near Linstock in Cumbria, magistrates were told.
But they accepted a ban would have an adverse effect on others who relied on his extensive charity work.
Instead, the cricketer, who has been caught speeding four times in the past three years, was given the three points on his licence and fined £330 but allowed to keep driving.
His solicitor Michael Neofytou told the court a ban would also affect his TV work and intrude on the privacy of his three children.
'Constantly raising money'
Flintoff, of Mottram St Andrew, Cheshire, was warned he would not be able to use the same reasons again in court if he was caught speeding again in the next three years.
The latest offence would take him to 12 points, which would normally mean an automatic ban after "totting up".
Mr Neofytou mentioned his client's "illustrious" cricket career for Lancashire and England and his being made an MBE in 2005 but did not "want to dwell" on those matters, he said.
He said Flintoff was "constantly raising money, or trying to, when not in his professional role".
His client drove himself to charity speaking arrangements, cricket matches and auctions of cricket memorabilia and "never took a fee", he said.
Flintoff and his wife "juggle" running their charitable foundation, while looking after their three children, two boys and a girl, aged nine, eight and six, the court heard.
After retiring for 20 minutes to consider the sentence, David Johnson, chair of the bench, said: "Because of your position, the fact that you are well known, clearly the impact has to be on others, more than you yourself."