Cumberland Infirmary endoscopy patients not infected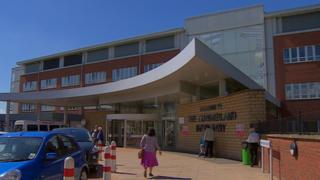 All patients who have had tests after medical equipment was not cleaned properly at a Carlisle hospital have proved not to be infected.
People who underwent endoscopies at the Cumberland Infirmary between 20 May and 19 June were warned endoscopes had not been washed to the usual standard.
The local health trust wrote to 357 people offering them blood tests to check for hepatitis B and hepatitis C.
It said all but 37 had arranged tests and all had come back negative.
An endoscope is a tube with a camera at the end, which is inserted into the body and sends back video images.
North Cumbria University Hospitals NHS Trust revealed on 9 August that a combination of human error and a design weakness in the cleaning machines meant endoscopes had been cleaned with less disinfectant than usual.
The trust said the machine used to clean the endoscopes had "two quite similar looking bottles with similar looking caps on" and that the wrong tube was put in the wrong bottle - a weakness that had now been designed out of the system.
It said the equipment had still been well cleaned and that the tests were a precautionary measure.
A spokesperson for the trust said: "We have now been in touch with almost all patients affected by this precautionary recall and, as expected, all blood test results to date have come back as negative.
"We take our duty of care extremely seriously and would like to thank patients for their understanding on this matter and also our team of staff who have worked hard to make the process as swift and seamless as possible."