Ravenglass Roman fort dig needs volunteers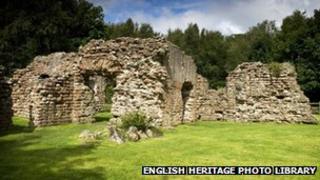 Archaeologists in Cumbria are seeking volunteers to help them explore the remains of a Roman settlement.
Ravenglass Roman fort was occupied from AD 120 until the 4th Century.
During the dig, beginning on 12 September, archaeologists hope to find more evidence of the civilian settlement from 1,800 years ago.
The £125,000 project received funding from the Heritage Lottery Fund, Lake District National Park Authority and Copeland Community Fund.
The site's unearthed bath house is still in good condition.
Lake District National Park's archaeology and heritage assistant, Holly Beavitt-Pike, said: "This is a rare opportunity for people to get involved, not just in understanding their rich heritage, but to leave a lasting legacy."
There will also be open days at the site on 12, 13 and 27 September.
The fort, often referred to as Glannaventa, was built to protect north-west England from Irish invasion.