Osprey pair nest at Roudsea Wood Nature Reserve in Cumbria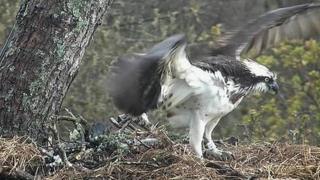 A pair of rare ospreys have nested at a nature reserve in Cumbria for the first time, conservationists have revealed.
Two male chicks have already been spotted by staff at Natural England's Roudsea Wood and Mosses Nature Reserve, near Ulverston.
Experts now hope the birds, which are known to be faithful to nesting sites, will return and breed in the future.
Ospreys returned to Cumbria in 2001 after an absence of 150 years, with a pair nesting at Bassenthwaite.
'Brilliant to watch'
It is now estimated that Cumbria has eight pairs of breeding ospreys.
Rob Petley Jones, Natural England's senior reserve manager at Roudsea Wood, said the osprey pair attempted to nest at the reserve last year, but their nest was destroyed by high winds.
"We are overjoyed at their breeding success. It's been brilliant to watch the family's progress," he said.
"We've worked hard here for many years to manage the site for wildlife and feel rewarded that the conditions are right to encourage these rare birds to nest here.
"We've all been keeping our fingers crossed that the birds would return after last year's initial nesting attempt."
He said little was yet known about the adult birds, especially the female, which is unringed and could have come from Scotland or Scandinavia.