Maryport fish smoking plant faces closure over £4m losses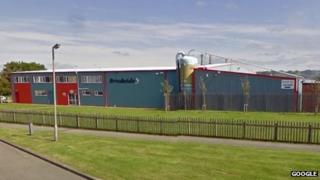 A fish smoking company in Cumbria could close, with the loss of more than 60 jobs.
Owners of Brookside Products Ltd said it had met with staff to begin a consultation process, which may result in the closure of the factory.
Director Doug Aitchison said the plant had lost about £4m over the last three years and it was not "sustainable".
The plant in Maryport, which employs 64 people, smokes, prepares and packages salmon for the retail market.
'Continued struggle'
The plant was started as a family business in 1987, before moving to the current site in 1995.
Mr Aitchison said the 30-day consultation process could ultimately lead to the closure of the plant.
He said: "We are very sorry that we are having to consider this...consumers rightly demand rigorous and ever increasing standards and this requires significant ongoing investment to maintain compliance.
"We have invested almost £400,000 over the last three years but the plant continues to struggle.
"We appreciate this is not good news for the workforce and our priority will be to ensure all our staff are treated fairly and kept fully informed throughout the process."