Descendants of WW1 medal sought after 1950s Cumbrian playground swap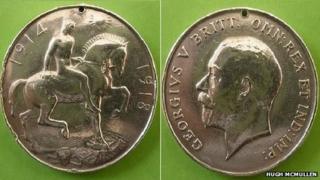 A man who acquired a valuable World War One medal in a playground swap in the 1950s is trying to find the descendants of the soldier it was awarded to.
Hugh McMullen, from Corby Hill in Carlisle, said he traded some marbles and a penknife for the medal in 1952 or 1953, when he was aged eight.
He is now trying to trace the descendants of the medal's recipient.
Mr McMullen said last week's World War One commemorations inspired the idea.
He came by the medal as a pupil at Camp Road Junior School in Maryport, but cannot remember the name of the boy who gave it to him.
The British War Medal 1914-20 was originally awarded to Pte Charles Casson of the King's Own Scottish Borderers.
Inspired by centenary
Mr McMullen enlisted the help of Cumbria's Museum of Military Life in Carlisle, which has traced the soldier's medal index card.
Tony Goddard, from the museum, said he had identified a Charles Casson in Workington, Cumbria, in the 1901 census, with sons called Charles and John.
Mr Goddard said the medal was made from sterling silver and "worth an awful lot more than a bag of marbles and a penknife".
Mr McMullen said he would like to hear from anyone who may be descended from Pte Casson.
He said last week's "lights out" World War One commemoration, in which people spent an hour lighting their homes only with a single candle, made him want to find the soldier's family.
"I was sitting looking at it with the candle on Monday night, turning it over in my hand," he said.
"I just thought wouldn't it be nice to get this back to the descendants."