Grange-over-Sands lido given poster facelift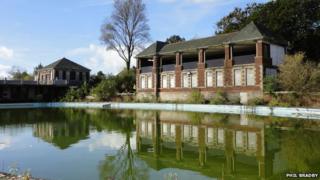 A derelict lido in Cumbria has been given a poster facelift.
The lido on the Promenade at Grange-over-Sands has been abandoned since it closed in 1993, although there is now a campaign for it to be reopened.
To coincide with the town hosting the Morecambe Bay Partnership 2020 Photographic Exhibition, the exterior has become a gallery in its own right.
Images range from 19th Century cocklers, to local wildlife, and the latest Bay search and rescue vehicles.
Town mayor, Councillor Tricia Thomas, and fellow councillor, Joanna Greenway, persuaded local groups, businesses and residents to sponsor the posters.
Ms Thomas said: "The lido was built in 1934, and closed after 60 years of happy use.
"For the people of Grange, it has long been a thorn in the flesh as it is a real eyesore and spoils the beautiful impression people get of the promenade.
"We hope that this exhibition on the lido will bring some beauty back to this part of our Edwardian promenade."
Regarding the future of the lido, the council said things were afoot in the long term and the financial viability of various options was being scrutinised.