Gwynne Evans and Peter Allen: The last men to be hanged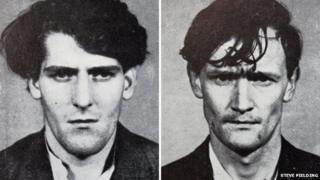 The murder of John West may not have been the most memorable, but the fact it led to his killers being the last criminals executed in the UK has written it into the history books. Historians claim they were unlucky to have their death sentence carried out.
Fifty years ago, two murderers who killed a friend for money were hanged.
At 08:00 BST on 13 August, 1964, Peter Anthony Allen and Gwynne Owen Evans were led from their cells to the gallows. Ten seconds later they were dead, their necks snapped by the hangman's noose.
They did not know it but theirs were to be the last judicial executions in the UK.
Due to a more liberal public which was becoming increasingly uncomfortable with killing criminals, some historians and criminologists believe a few weeks delay would probably have seen them reprieved.
The duo were convicted of the murder of John Alan West, a 53-year-old laundry company driver who was bludgeoned and stabbed to death at his home in Cumbria on 7 April, 1964.
Historian and author Steve Fielding said as murders go it was fairly unremarkable.
Twenty-four-year-old Evans, who was also known as John Robson Walby, and Allen, 21, had travelled to Mr West's home in Seaton in a car stolen from Preston, Lancashire.
Evans, from Maryport, knew the victim, who was a bachelor who lived alone after the death of his mother. He and Allen wanted money to pay a court debt.
Shortly after 03:00 BST, neighbours heard several thuds, a scream and the screech of a car being driven away. Mr West's semi-naked body was found moments later.
He had suffered 13 head injuries and a single stab wound to the heart. The knife was ditched near Windermere as the attackers fled.
Also in the getaway car were Allen's wife and the couple's two young children.
The murderers escaped with a watch presented to Mr West in 1955 marking 25 years at Lakeland Laundry and two bank books from which they withdrew a total of £10.
Police found Evans's jacket hanging on Mr West's banister, which quickly led them to the culprits.
Each blamed the other for striking the fatal blows but a jury found them both guilty of the capital murder of Mr West under the joint enterprise law.
The controversial law is currently being campaigned against by families who feel their loved ones have been harshly sentenced.
Although Evans and Allen were given the death penalty, the public's attitude was turning against the practice and they both launched appeals hoping to commute the sentence to life in prison.
Appeals for reprieves failed however with Evans subsequently executed at Strangeways in Manchester by Harry Allen, while his accomplice was simultaneously hung at Liverpool's Walton Prison by Robert Leslie Stewart.
Mr Fielding, who has written more than 20 books about UK hangings, said: "Whether a man was reprieved or not was quite arbitrary, there were people who committed much more brutal murders who, after being sentenced to execution, were commuted to life sentences.
"It may even have come down to the fact that a prison hadn't used its gallows for a while. There was no consistency."
Barry Lees, a lecturer in policing at the University of Cumbria, said the crime itself was not historically significant, but what happened to the criminals is a part of British history.
He said: "It was not a crime that many people would have known about, those responsible were caught pretty quickly, there was not a major manhunt or anything like that and it is not one that would have stuck in the mind.
"But the fact it led to the last two executions in the country makes it memorable.
"You could argue it was bad timing for them, there was a two to one chance of someone not actually hanging at the time.
"A few weeks later and their sentences would probably have been commuted to life in prison, they could both still be alive today."
Modern execution methods have been in the spotlight recently following several botched lethal injections in the United States.
Mr Fielding said when done properly, with the rope length adjusted according to the weight of the doomed man, hanging was the most humane form of execution.
He said: "It was quick and painless, from leaving the cell to death took about 10 seconds, the neck was broken and that was that.
"In America they talk about hanging as being brutal, but they were doing it wrong, it was not done scientifically like it was here."