Carlisle Council spends £440,000 in airport row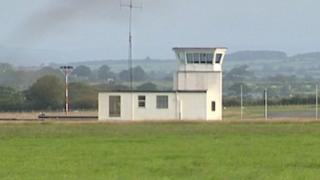 Nearly half a million pounds has been spent by a council on legal advice in a five-year planning row over an airport.
Carlisle City Council revealed the £441,000 figure, which represents legal costs alone, after a Freedom of Information request from the BBC.
The issue concerns a proposed development at Carlisle Airport, the planning permission for which has been fought repeatedly in court.
The costs were racked up between 2009 and March this year.
The proposal, from Stobart Air, is to build a freight distribution centre at the airport.
The council granted planning permission in 2009, but a farmer from nearby Irthington took the decision to judicial review, arguing the council did not carry out an environmental impact assessment.
Costs could be higher
After several court cases and a revised planning application, the High Court again rejected the council's decision to grant permission in March.
Stobart Air has since made another application, which is awaiting a decision.
Gordon Brown, the farmer who has contested the development, said: "I made representations to the council just like any other member of the public can.
"Ultimately, you have to decide these things in court."
BBC Radio Cumbria's political reporter, Emily Unia, who uncovered the information, said overall costs associated with the case were likely to be significantly higher.
She said the £441,000 related only to legal advice and there would inevitably be other administrative costs involved.
A spokesperson for the council said: "During each legal challenge, we felt that we had a strong case and were disappointed with the outcomes.
"Legal costs are unavoidable as we needed to appoint counsel to represent us during the legal processes."