Cumberland Infirmary patients warned over endoscope hygiene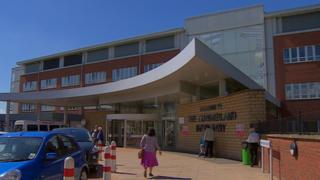 Hundreds of patients have been alerted after equipment at a Carlisle hospital was not cleaned properly.
North Cumbria University Hospitals NHS Trust wrote to 357 people to tell them machines used to clean endoscopes did not use enough disinfectant.
An endoscope is a tube with a camera at the end, which is inserted into the body and sends back video images.
The trust said the risk of infection was very low but it was offering those concerned a blood test as a precaution.
The tests will be for hepatitis B and hepatitis C.
The patients the trust contacted were those who had an endoscopy at the Cumberland Infirmary between 20 May and 19 June this year.
The trust said only patients who had been written to were affected.
'Whole country safer'
Two of the three automated machines used to clean endoscopes at the hospital did not use the right amount of disinfectant during the period, the trust said.
Dr Jeremy Rushmer, medical director at the trust, said it was "regrettable" but claimed the discovery of the fault would have benefits.
He said: "The way that the machine is designed is that there were two quite similar looking bottles with similar looking caps on.
"The wrong tube was put in the wrong bottle that is now being designed out of the system, so the whole country and the manufacturer is safer as a result of the vigilance of our staff.
The trust said the endoscopy department had discovered the problem after routine checks on the machines.
'Very concerning'
The case will now be investigated by the Medicines and Healthcare products Regulatory Agency.
Dr Rushmer added: "I would strongly reiterate that the offer of a blood test for certain patients is purely a precautionary measure and the risk of any infection from this type of incident is extraordinarily low."
Copeland's Labour MP Jamie Reed welcomed the trust's openness, but still expressed concern.
He said: "Though the risk of infection for the patients who went through this procedure during the time in question is incredibly small, it is still very concerning."