Blencathra group confident bid will be successful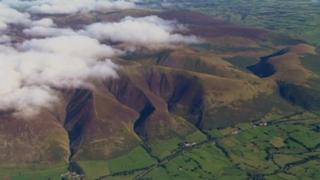 A community group hoping to buy a mountain in the Lake District still believes its bid will be accepted.
The property agent handling the process initially said it had accepted a bid higher than that of the Friends of Blencathra.
But H&H Land and Property has since said negotiations are ongoing.
Reports that Indian steel tycoon Lakshmi Mittal had bid for Blencathra have been denied on Twitter by his company ArcelorMittal.
The tweet said: "The idea that Mr Mittal is interested in buying a mountain is nonsense. We have no idea where this story came from: it isn't true."
Blencathra, also known as Saddleback, was put on sale for £1.7m earlier this year by the Earl of Lonsdale, Hugh Lowther, in an effort to raise money for an inheritance tax bill.
Debbie Cosgrove from Friends of Blencathra said: "It's not a done deal, but we believe we will be the winning bid. We're the only people who've gone public."
She said the group's first offer was lower than it could afford, because as a charity it was obliged not to bid above market prices.
"We told H&H we'd be putting in a low offer in line with Charity Commission rules, but we told them we'd be able to match a higher bid if one came in," she said.
Ms Cosgrove said the group had an advantage over other bidders, because the Earl of Lonsdale would not have to pay capital gains tax if selling to a charity.
H&H Land and Property would not comment, beyond a statement it released last month.
It said: "We are moving towards exchange of contracts.
"However until the time contracts have been exchanged, negotiations with all parties are ongoing."