Cumbria hospital care 'increasingly fragile' due to staff shortage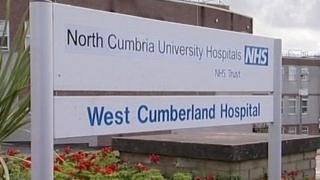 Staff shortages are creating an increasingly fragile situation with acute care, managers have warned.
In April, junior doctors were taken off wards at the West Cumberland Hospital in Whitehaven because there were too few senior staff to supervise them.
North Cumbria University Hospitals NHS Trust said although it had been a "struggle", immediate gaps in the rota had been filled with locum support.
The trust sought help from neighbouring trusts to fill the August rota.
The trust has struggled to recruit specialist acute medicine and emergency admission doctors due to a national shortage which is felt "very strongly" in rural Cumbria.
Medical director Dr Jeremy Rushmer said: "Although we are continuing with extensive recruitment efforts the situation with acute medical care at West Cumberland Hospital is increasingly fragile, but we now have system-wide actions that can be quickly implemented if need be.
"However, we cannot ignore the inadequate safety rating which the CQC has given for acute medical care at West Cumberland Hospital and continue to work with partners on a longer-term plan to ensure safe and sustainable services for the generations ahead."
The Care Quality Commission kept the trust in special measures in July over concerns about mortality rates and care standards.