Penrith residents vote for town council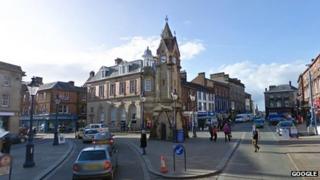 Residents in a Cumbrian town have voted in favour of establishing their own town council, in a postal ballot.
Two thirds of those who voted were in favour of the plan for Penrith, Eden District Council said. The turnout was about 40%.
But the vote is not binding and district councillors will need to approve the measure at a meeting on 18 September.
It is not yet clear exactly which powers the town council would have.
Town councils usually have control of local amenities such as allotments, play areas and public spaces.
'Historic'
Two previous ballots in 2001 and 2008 rejected the idea of a town council for Penrith.
The latest poll followed a petition signed by 1,250 people, calling for the move.
The district council said 5,089 of an electorate of 12,196 took part in the vote.
Eden District Council's Conservative leader, Gordon Nicolson OBE, described the outcome as "historic".
He said: "I am pleased that the result shows a significant majority for the decision. I welcome the result."