Allerdale Council approves Workington leisure centre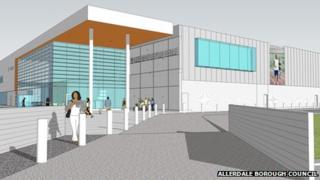 Plans to build a £9.4m leisure complex in Cumbria will go ahead, after councillors gave their approval.
Allerdale Borough Council's development panel approved proposals to build the centre in Workington.
The site at Brow Top in the town was chosen after a consultation, but met with opposition when Workington voters opposed it in a local ballot.
But the poll, held in March, was not binding and the council insisted the site was suitable for the complex.
The town's current leisure centre in Moorclose is set to close once the new one is open.
Moorclose independent councillor Denis Robertson had opposed the new development on the grounds it was on a flood plain.
But Councillor Michael Heaslip, Allerdale's executive member for locality services, said flood plains were acceptable for leisure centre developments, according to Environment Agency guidelines.
"There's a demand for a leisure centre and the present leisure centre is incapable of meeting that demand because its life expired," he said.
"I was 16 when it was first opened. I won't tell you how old I am now, but it's well over 40-years-old."
The council hopes to start work on the new complex in October.