Kendal college reveals new engineering centre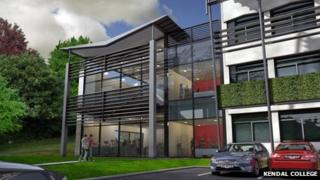 A college in Cumbria has revealed plans for a new £1.89m engineering centre, due to open in September.
The specialist development is set to open at Kendal college's existing campus in the town.
The new extension to the college will feature three workshops and a science laboratory.
The centre will specialise in teaching science, technology, engineering and maths.
The building will feature green technology with solar panels, high quality insulation and a mechanical ventilation system, the college said.
The environmental focus is part of a drive to reduce carbon emissions.
Principal Graham Wilkinson said: "We have some world class manufacturers in the area and our new innovative engineering centre will specialise in courses to meet industry needs."