Coniston charity swims in memory of Duncan Priestly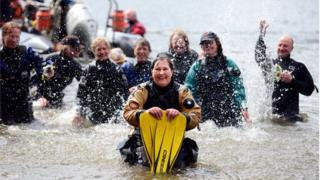 A group of divers took part in an underwater relay with a difference at Coniston Water in the Lake District in memory of one of their club members.
It was the second year members of the British Sub-Aqua Club in Clitheroe, Lancashire, gathered to raise cash in memory of Duncan Priestly.
Mr Priestly, from Accrington, died last August from cancer, aged 59.
Sunday's event, which saw pairs of divers cover the 5.5-mile (9km) lake in relay, raised £1,700 for the RNLI.
Last year club members raised more than £2,200 for Pendleside Hospice in Burnley.
The group of 16 from the Ribble Valley branch of the British Sub-Aqua Club (BSAC) spent eight hours covering the entire length of the lake underwater.
Organiser Fiona Imlach said: "Duncan was one of the club's most active members and was a hugely popular guy who was always up for a laugh.
"Things went very smoothly with the challenge. We stayed overnight at the Youth Hostel in Hawkshead and were all up at 4am to prepare for the dive.
"The first divers went in at 6am and the last one came out at 2pm, which was much less time than we thought it was going to take.
"Each member of the team did two 30-minute dives with a break of four hours in between.
"Each buddy pair used a compass and trailed a surface marker buoy so the safety crew on the surface could see exactly where they were.
"Everyone thought that what we were doing in Duncan's name was amazing and I think they were overwhelmed by the effort we put into it.
"From our point of view it was certainly a fantastic day and a great club activity. I'm proud of the way all the members helped each other."