Millom axe killer John Jenkin's sentence increased after review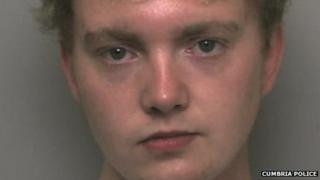 A man who killed his mother and sister with an axe during a schizophrenic episode has had his jail term increased by the Court of Appeal.
John Jenkin, 24, was given a life sentence after attacking Alice McMeekin and Kathryn Jenkin at their home in Millom, Cumbria, last June.
He was handed a minimum 12 year term, which was later reduced to six.
But after the Solicitor General asked for a review, the sentence has been increased to 13 years and four months
Jenkin had pleaded guilty to the manslaughter of his 58-year-old mother and 20-year-old sister on the grounds of diminished responsibility.
A trial at Preston Crown Court heard Jenkin took LSD, whisky and painkillers and tried to drown himself in a river before cutting his wrists on 6 June.
He was taken to Furness General Hospital for treatment where, following an examination by a psychiatric nurse, he was released.
He went on to kill his mother and sister as well as their dog at the family home in Newton Street two days later.
Speaking after the judgment, Solicitor General Oliver Heald, said: "This was a truly tragic case and my heartfelt sympathies go to the family of Alice McMeekin and Kathryn Jenkin, who lost their lives in this senseless attack.
"I asked the Court of Appeal to look again at this sentence as I felt the adjusted term of 6 years failed to reflect the seriousness of these crimes and dreadful impact the killings had.
"I hope the increased minimum term in some way offers comfort and reassures the public."
In addition to the minimum life term, an order was made under the Mental Health Act requiring Jenkin to be treated at Ashworth High Security Hospital until he is fit to be sent to prison.