Lakeside minibus rescue digger gets stuck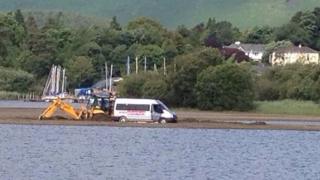 A digger being used to rescue a minibus from the side of a lake in Cumbria ended up becoming trapped itself.
The minibus driver, who was staying in a nearby campsite, was taking photographs on a spit of land by Derwent Water, when his vehicle became lodged in the peaty ground.
Some workers in a digger offered assistance but also became stuck, before managing to free themselves.
A recovery firm has now been called in to extricate the minibus.
Simon Hill, from the Camping and Caravanning Club site in Keswick, said that the lake level was low because of the dry weather.
"We had a camper who thought they would take a little trip to get some lovely scenic photographs", he said.
"Unfortunately because it's a peat-bogged lake, they became properly stuck.
"We now have an experienced retrieval company on site who are planning how to get the minibus out.
"Luckily there is no rain forecast, so we don't have that to worry about."