Blencathra owner 'should be able to push on with sale'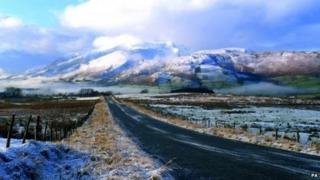 The owner of a mountain in Cumbria wants to use a legal loophole to push through its sale, despite efforts to ensure the community can own it.
Earlier this month, a group of residents applied to Eden District Council to make Blencathra in the Lake District a community asset.
If successful it would give them six months, protected from other bids, to buy the property for a fixed price.
But the owner has argued these conditions should not apply.
The Earl of Lonsdale, Hugh Lowther, put the mountain up for sale earlier this year to help settle a £9m inheritance tax bill.
Property agents for the Earl said a loophole in the legislation around community assets meant they should be able to sell the mountain as usual, even if it becomes a community asset.
H&H Land and Property said an exemption under the Localism Act meant the estate should not have to observe the six-month moratorium, because "the sellers are personal representatives selling in order to pay a tax liability".
The Lowther Estate has taken legal advice and will make representations to Eden District Council on the matter.
The Friends of Blencathra group is trying to raise the asking price of £1.75m to buy the mountain.
The council is due to decide whether to list Blencathra as a community asset on 7 July.