Bassenthwaite osprey chick killed by infection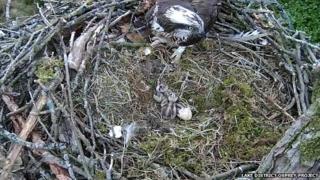 One of three osprey chickens hatched at a Lake District haven has died of an infection.
The chick, which hatched two weeks ago, was spotted struggling to stand in the nest at Bassenthwaite near Keswick.
The bird was examined by a vet but later died, the Lake District Osprey Project (LDOP) confirmed.
Ospreys returned to the Lake District in 2001, after an absence of more than 150 years and have been watched on camera ever since.
'Nature cruel'
Over the last 13 years, more than 20 chicks have been raised at the nest.
Nathan Fox, of the LDOP, said: "It really is very disappointing to lose one of the three chicks, but it highlights how many things can go wrong - nature can be very cruel.
"It is really sad for the project, but we maintain our perspective and allow nature to take its course.
"We are pleased to say the remaining chicks are continuing to do very well and we will constantly monitor their progress over the coming weeks."
A team of more than 100 volunteers provide a 24-hour guard at the site and crowds of people visit specially-created viewpoints to catch sight of the birds.
Live images from the nest are also being beamed to a big screen at the nearby Whinlatter visitor centre.