Keswick's Scruffs Dog Show goes ahead without frisbees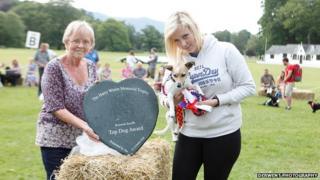 A dog show in Cumbria has gone ahead, after one of the categories was scrapped amid health and safety fears.
Scruffs dog show in Keswick had planned to award a prize for the highest frisbee jump, however there were fears canine competitors could be hurt.
In addition, entrants to the biscuit-catching category had to remain seated.
The show, part of the week-long Keswick Festival, also celebrated Keswick having been awarded the Kennel Club's most dog friendly town in the UK.
One of the categories was for dog most like its owner.
The fancy dress event attracted a large number of entrants.
Dogs also competed in the best tricks category.
Town councillor, Tony Lywood, said he hoped the show could become an annual event.