Luke Hollingsworth murder: Life term for Jamie Armstrong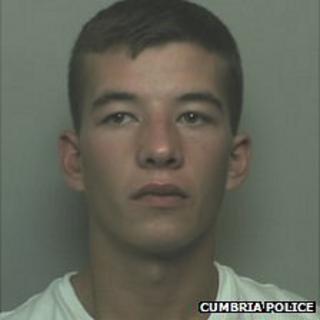 A man who stabbed his friend to death in a row money and drugs has been jailed for life.
The body of Luke Hollingsworth, 23, was found at a house on Etterby Lea Road, Carlisle, in July 2013.
Jamie Armstrong denied murder, blaming masked intruders who demanded drugs money and attacked them both, but was convicted at Carlisle Crown Court.
The 21-year-old, of Warwick Road in the city, was ordered to serve a minimum term of 25 years.
The trial had earlier heard that armed police were called to the property on 10 July and found Mr Hollingsworth with stab wounds to his back, head and eyes, and Armstrong also seriously injured.
Sentencing was delayed because Armstrong had been ill overnight and, although a prison nurse had certified him as fit to travel, he refused to do so.
Judge Paul Batty said that he would not allow a convicted murderer to dictate how the court operated and ordered that he be brought "by force if necessary".
'Challenging investigation'
Handing down sentence, he described Armstrong as "obsessed by money".
"You have no work ethic, you live by selling drugs," he said.
"You have not shown a tinge of regret, or flicker of remorse. There is not an ounce of human decency in you that I can see."
Speaking after sentencing, Det Supt Mike Forrester, from Cumbria Police, said: "This was a challenging investigation with a number of lines of enquiry because of the suggestion from Armstrong that two other masked and armed intruders committed the murder."
"Our thoughts are with Luke's family and we hope that the justice passed today will help them with their own healing process," he added.
In a statement, Mr Hollingsworth's mother said: "Clearly this has had a devastating effect on my family and I can now rest in the thought that Jamie Armstrong has been brought to justice for the brutal murder of my much loved son, Luke."