Beaconside Primary School: 90 children affected by sickness bug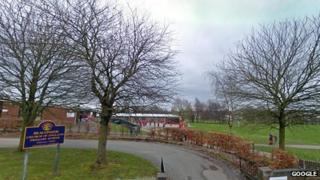 Around 90 youngsters have been affected by a stomach bug at a Cumbrian school.
The gastroenteritis outbreak at Beaconside Primary School, in Penrith, is not believed to be linked to food preparation.
Parents have been advised to keep their children off school for 48 hours after symptoms such as vomiting and diarrhoea disappear.
The school has "instigated enhanced cleaning regimes" in an effort to prevent further infection.
Specialists from Public Health England (PHE) and environmental health officers from Eden District Council are investigating the outbreak.
The school, which has about 500 pupils, is "co-operating fully", health chiefs said.
Tracey Wood, senior health protection practitioner at the Cumbria and Lancashire PHE Centre, said: "It has not been possible to pinpoint exactly what led to the illness, but we are undertaking further investigations that may provide us with more information.
"In general, good hygiene is a key principle in avoiding infection.
"This includes thorough hand washing, especially after using the toilet, before and after handling or preparing food and before eating."