Praise for those who attended Appleby Horse Fair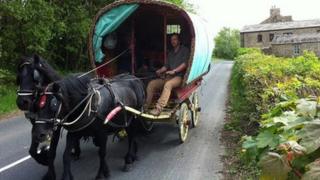 Organisers have praised the behaviour of thousands who attended this year's Appleby Horse fair in Cumbria.
More than 10,000 Gypsies and travellers and an estimated further 30,000 visitors attended the gathering between 5 and 11 June.
Cumbria Police said just 28 arrests were made during the event - the majority for public order offences.
The only significant injury involved a woman struck by a horse on Sunday, although she was not seriously hurt.
Supt Sean Robinson of Cumbria Police said: "I want to thank the community for their tolerance during the event.
"I would also like to thank the Gypsy, traveller and horse communities, for assisting us to make the fair a safer event."
'Relatively peaceful'
Robin Hooper, chief executive of Eden District Council, added: "There is no denying that the fair causes substantial disruption to many outlying communities and the town of Appleby.
"The clean-up operation of surrounding villages and the town centre has been praised by many."
Appleby's mayor Andy Connell said: "This year's fair passed off relatively peacefully. I am not aware of any major incidents and everything was dealt with in good humour.
"There will always be issues with traffic within Appleby, the infrastructure does not support the volume of traffic that is in the town over the weekend but the majority showed patience and understanding."
Bill Lloyd, a representative from the Gypsy and traveller community said: "We feel the fair has been great, with a very good, relaxing and friendly atmosphere.
"There were more horse-drawn vehicles this year, which is pleasant to see.
"We praise the police for their response, the dispersal orders they used helped reduce incidents and remove any trouble makers."
The annual fair has existed under the protection of a charter granted by King James II since 1685.