Bassenthwaite osprey chick trio hatch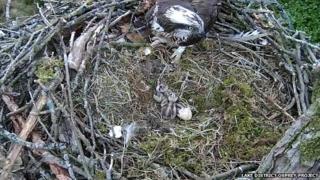 Three osprey chicks have hatched at their nest in the Lake District.
Ringed as KL, the female mated with the same unringed male it produced two healthy chicks with last year, at Bassenthwaite near Keswick.
The three eggs were laid at the site in April and have hatched separately over the last two weeks.
A ranger for the Lake District Osprey Project said they will "certainly have their work cut out with three to look after".
Ospreys returned to the Lake District in 2001, after an absence of more than 150 years.
Over the last 13 years, more than 20 chicks have been raised at the nest.
A team of more than 100 volunteers provide a 24-hour guard at the site and crowds of people visit specially-created viewpoints to catch sight of the birds.
Live images from the nest are also being beamed to a big screen at the nearby Whinlatter visitor centre.