Plans to restore Whitehaven's coal mining industry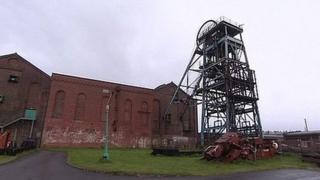 Mining could restart next to the site of a former Cumbrian colliery that closed almost 30 years ago.
The Haig Pit in Whitehaven was shut in 1986 after 70 years with the loss of 3,500 jobs.
Now, the West Cumbria Mining Company is investing £14.7m in a study to examine whether coking coal could be extracted close to the site.
The firm believes there could be as much as 750m tonnes available in a 75 sq mile area around the colliery.
Mark Kirkbride, chief executive officer of the company said: "The UK is currently a substantial net importer of coking coal for industrial use, the majority of which is sourced from Australia and the USA.
"It therefore makes economic sense to source available coking coal on our own shores if sufficient amounts can be accessed and mined economically.
"Whilst it's too early to talk about specific details, we believe that mining has the potential to bring significant economic benefits to the local area in the future, including high quality new jobs."
Cumbria County Council will decide on whether to give planning consent to exploratory drilling, the main mining operation and any necessary remediation work, once plans have been submitted.
Cllr David Southward, said: "The rebirth of mining in West Cumbria would be a massive boost to regeneration in the area.
"We've started some initial discussions with the company and they seem to be receptive to getting the maximum local input and involvement on their plans. It's early days, but this would be a major string to the region's bow."
Limited onshore test drilling is due to start later this year, with offshore tests in 2015.