Appleby Horse Fair: Woman struck in 'flashing lane'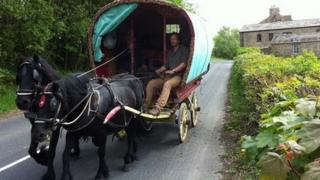 A woman was airlifted to hospital after being hit by an animal at the annual Appleby Horse Fair.
The 36-year-old was hurt on the Long Marton Road, traditionally known as the "flashing lane".
It sees horses ridden at speed to show their prowess to potential buyers and is closed to motorists during the event.
She was taken to Carlisle's Cumberland Infirmary at about 16:00 BST on Sunday with non life-threatening injuries.
Cumbria Police are appealing for witnesses to contact them.
Robin Hooper, chairman of the Appleby Fair Multi-Agency Strategy Co-ordination Group, told BBC Radio Cumbria earlier: "As we understand it, the lady concerned didn't heed any of the warnings that we gave to watch out for these fast horses and to stay back from the road."
On Friday, a five-year-old boy was taken to hospital after falling when two carriages crashed.
About 10,000 Gypsies and travellers and a further 30,000 visitors are expected to attend the fair, which ends on Tuesday.