Cumbria Army base death: Wife pays tribute to soldier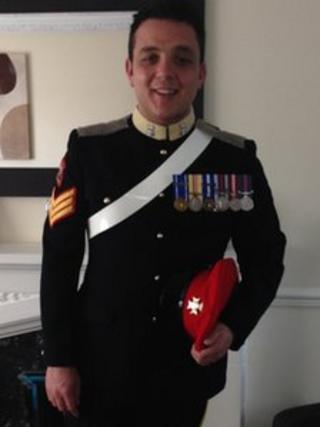 The wife of a soldier who died at an Army training centre in Cumbria has paid tribute to her "soul mate and best friend".
Sgt Mark Foley, 31, of the Light Dragoons, died in a military vehicle whilst training on Warcop training area near Appleby on Wednesday.
Two other soldiers were injured in the incident.
Sgt Foley's wife Kelly said she and his two daughters, Emily and Hannah, will "miss him so much".
Commanding Officer, Lt Col James Senior said: "Sgt Foley was an exceptionally talented, battle-hardened soldier who embodied everything that is good about our profession.
"Always inquisitive and engaging, Sgt Foley was at the heart of everything his troops did, everything his squadron did, everything the regiment did.
"Whether in the dust of Helmand Province or the troop store at our regiment's home in Norfolk, he was the man people turned to for advice and guidance.
"Our thoughts and prayers are with his wife and young family."
A second soldier was treated at the scene and a third, a male aged 19, was flown to the James Cook University Hospital in Middlesbrough with chest and back injuries. He is said to be in a stable condition.
The Army said the accident is being investigated by the Land Accident Investigation Team.
Warcop training area is a Ministry of Defence live firing area.