Beacon Museum in Whitehaven reopens after revamp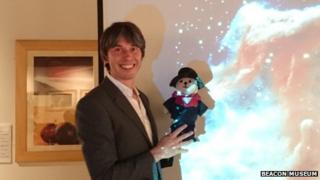 A museum saved from shutting has reopened following a revamp.
The Beacon Museum in Whitehaven was earmarked for closure by Copeland Borough Council in 2012, but was saved when nuclear company Sellafield agreed to run it jointly with the council.
It closed in January to prepare for an exhibition on the nuclear industry.
Television personality and scientist Brian Cox, a guest at the reopening, said he thought the museum was "brilliant".
'Very exciting'
The Beacon, which opened in 1996, features art exhibitions and local history displays, and now has a floor dedicated to the "Sellafield Story".
Sellafield has pledged £1.6m to support the museum over the next five years.
Prof Cox said he was impressed by the nuclear exhibition.
He said: "It goes through the history. Then you trace all the physics through, but also the engineering.
"It's brilliant, genuinely. I went round the museum and I had about 10 minutes there. You need hours."