West Cumberland Hospital power cut-off threat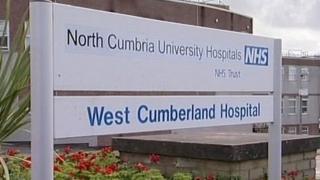 A hospital in Cumbria could have had power cut off to one of its buildings due to unpaid bills, it has emerged,
Freedom of information requests by an industry magazine revealed North Cumbria University Hospitals (NCUH) NHS Trust was forced to appeal to the government for a bail-out.
The trust's electricity supplier had reportedly threatened to cut off power to a hospital building in Whitehaven.
The Department of Health (DoH) said it had given funding to help the trust.
The Health Service Journal made freedom of information requests which revealed applications for financial aid from the DoH made by a number of trusts earlier this year.
The NCUH trust, which has been in special measures since 2013 over high mortality rates, runs Cumberland Infirmary in Carlisle and West Cumberland Hospital in Whitehaven.
'Unacceptable scandal'
Steve Shanahan, the trust's Director of Finance, confirmed it had applied for and received financial support.
"The issue regarding the power supply at West Cumberland Hospital was quickly resolved and did not impact on patient care," he said.
Labour MP for Copeland, Jamie Reed, said: "Those lying in hospital beds should not have to worry that the power company is going to switch off the electricity supply to the hospital.
He called it an "unacceptable scandal".
A spokesperson for the DoH said: "We understand the financial demands faced by the trust, and earlier this year we provided funding to help balance its books."