Barrow to Carlisle Sunday trains could be introduced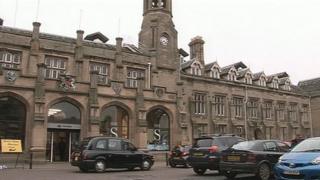 Sunday trains could be introduced to a railway line along a stretch of coast in north-west England.
Cumbria County Council is in talks with Northern Rail over plans to bring in a full Sunday service on the line between Barrow-in-Furness and Carlisle.
The council has bid for £285,000 from the government's Local Sustainable Transport Fund (LSTF) to operate the service for a trial period next year.
The change could become permanent if there is demand.
The pilot would run for 26 weeks next year, over a period that would include summer.
'Economic benefits'
The council said £30,000 from local groups and agencies would supplement the money from the LSTF, if the bid was successful.
The council's cabinet member for highways and transport, Keith Little, said he believed there was demand for the service.
He said: "The passenger numbers have increased greatly over the time of the franchise that's running at the moment, which has been a 10-year franchise.
"There are two major benefits for the coastal line and that is the connectivity and also the economic benefits."
The Cumbrian Coast Line currently operates a limited service between Whitehaven and Carlisle on Sundays, but there are no trains on the southern stretch that goes to Barrow-in-Furness.