Cockermouth's Main Street roadworks to enter second phase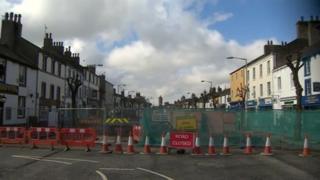 Roadworks on a Cumbrian town's high street are set to move into the second phase.
On Tuesday, the £1.7m highway and drainage improvements scheme at Cockermouth's Main Street will see work start from Station Street to Cocker Bridge.
Main Street is set to reopen to traffic in July with the project completed in August, Cumbria County Council said.
Business owners have blamed the scheme for causing a 50% drop in trade.
From Tuesday, Main Street will be fenced off from Station Street to Cocker Bridge with diversion routes in place.
Pedestrians will have access from Station Street to Cocker Bridge and footway access to shops on that section will not be affected.
The first phase of the scheme saw works between Sullart Street and Station Road.
Funding has been provided by the Department for Transport following major floods in the town in 2009.