Jim Higgins quizzed by police for clearing Whitehaven path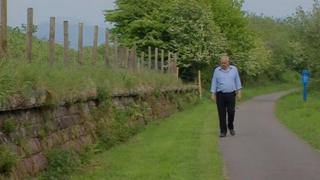 Whitehaven grandfather Jim Higgins thought he was helping his community when he took it upon himself to clear an overgrown cycle path near his home.
The 65-year-old removed brambles, erected a bench and cut down 130 meters (426ft) of metal railings, which he sold to buy new wooden fence posts.
But charity Sustrans, which owns the Moor Row path, said he did the work and sold the railings without permission.
He has now been questioned by police and faces being prosecuted.
Mr Higgins, a married former Metropolitan Police officer with six children and two grandchildren, said: "This path is at the bottom of my garden and has been overgrown for years.
'Common criminal'
"The metal fence that was there was covered in brambles, damaged and half buried, so I thought I would do a good deed.
"I and my neighbours felt something should be done about it because it wasn't only an eyesore, it was dangerous. My own dog had been impaled on one of the rusty railings.
"I had spoken to some Sustrans volunteers about what I planned to do and assumed I had permission.
"I actually thought I was doing something good, but I wish I hadn't started it now and I apologise to Sustrans.
"I've been made to feel like a vandal and a common criminal and that is not what I intended at all. I'm very worried about it now.
"I actually had a dream the other night that I was in jail."
'Wildlife habitat'
Eleanor Roaf, North West regional director of the cycling charity, said: "We had to call in the police because we had a report that the railings were missing.
"We are having to put in a claim to our insurers to make good the fence that was removed. So it's going to cost us quite a bit of money.
"The path and the verges are regularly maintained. But the rest is allowed to grow as wildlife habitats and the difficulty is that one person's eyesore is another person's glorious wildlife habitat.
"The police are investigating now, so it's really difficult for me to comment much further, only to say we are having to spend a lot of money making good what has been done."
A Cumbria Police spokesman said they were investigating allegations "in relation to property being removed" and could not make any further comment.