Third Astute submarine Artful enters water at Barrow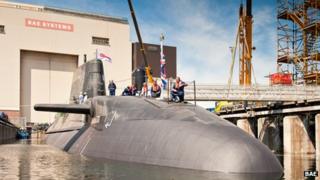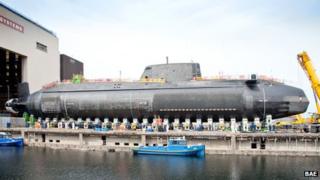 The third Astute Class submarine built at a Cumbria shipyard for the Royal Navy has been lowered into the water.
HMS Artful is one of seven nuclear-powered vessels being built by BAE Systems in Barrow.
The 97m-long 7,400-tonne attack submarine, which was officially named at a ceremony in September, will now undergo tests to prove its systems work properly before sea trials in 2015.
BAE Systems said it was a significant step forward in the Astute programme.
Stuart Godden, Astute programme director for BAE Systems, said: "Moving a submarine of this size from its build hall to the water is very challenging.
"It's testament to the experience and careful planning of the team involved that Artful is now ready for the next phase in her programme.
"Witnessing a submarine move out of the hall and be readied for launch is truly inspiring and a source of great pride to the thousands who have played a part in getting Artful to this stage."
The first two submarines in the class, HMS Astute and HMS Ambush, have already been launched.
Four others, Audacious, Anson, Agamemnon and Ajax are at various stages in the design and build process.
All have state-of-the-art equipment and are capable of circumnavigating the world without the need to resurface.