Council officers visit Appleby Horse Fair arrivals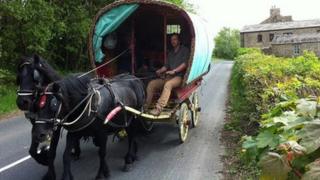 Travellers and Gypsies who park up in south Cumbria on the way to the Appleby Horse fair will be visited by council officers.
The annual event will be taking place between 5 and 11 June.
With thousands of people due to arrive, and strict rules over when access to the site is allowed, stopping places are set up on verges en route.
South Lakeland District Council said it would meet those staying in the area in a bid to "build better relationships".
Paul Barwise, the council's neighbourhood enforcement officer, said: "Rather than waiting for them to come to us we'll drive out to the areas on the A65.
"We'll have a chat with them to make sure there aren't any problems."
Cumbria Police will be carrying out additional patrols and a public meeting will be held in Appleby on Monday so local people can find out about operational arrangements.