Blencathra Cumbria mountain could become community asset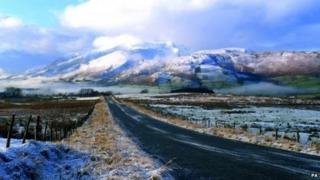 A group of residents in Cumbria has applied for exclusive bidding rights to buy a mountain.
Blencathra, in the northern Lake District, was put up for sale by the Earl of Lonsdale, Hugh Lowther, to help settle a tax bill.
The Friends of Blencathra group has applied to Cumbria County Council to make the mountain a community asset.
That would give the group six months to raise funds for the purchase, in which time no one else would be able to bid.
The group would have to raise the asking price of £1.75m, which would be fixed during the six months.
The council will decide whether to put the mountain on its register of community assets on 1 July, the day before the deadline for sealed bids.
Early stages
If the group's application is unsuccessful, or it fails to raise the funds, it will have to compete with other bidders.
Debbie Cosgrove, from Friends of Blencathra, said the six-month window would give the group time to "sort out the funding".
"We're pretty confident. People's interest has been absolutely fantastic. We've been getting calls from all over," she said.
She said the group was in the early stages of fundraising, with the building society account for donations only set up on Thursday.
The right for local groups to bid exclusively on community assets in a six-month period was introduced by the Localism Act 2012.
The earl announced he was selling Blencathra earlier this month as part of an effort to pay off a £9m inheritance tax bill.