Lake District mountain sale: Earl 'didn't want to evict tenants'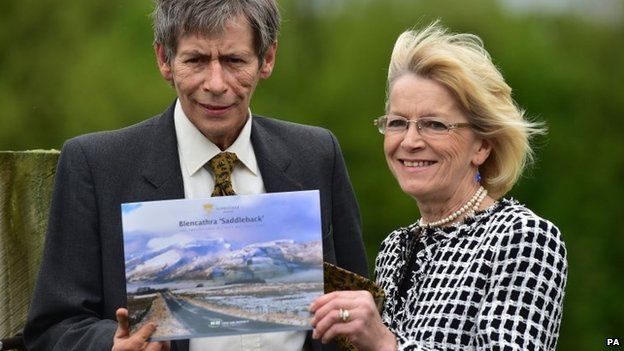 An aristocrat who is trying to sell a mountain to pay off a hefty tax bill has said he chose shifting the peak over evicting people from their homes.
The Earl of Lonsdale, Hugh Lowther, placed the 2,850ft (869m) Lake District mountain on the market for £1.75m.
He said it was either that or break up the Lonsdale Estate, which has been in his family for hundreds of years.
The earl is selling Blencathra in a bid to settle a £9m tax bill from his father's inheritance.
He told the BBC putting the 2,676 acre plot on the market was his best option to raise the funds.
"We don't want to make inroads into the core of the estate," he said.
"And we don't want to have to evict tenanted farmers and other tenants and what have you from their houses so we can sell them."
Whoever buys the peak will be entitled to use the title Lord of the Manor of Threlkeld.
They will also obtain grazing rights for 5,471 ewes, 732 hoggs [young sheep] and 200 lambs.
Blencathra, which is known as Saddleback due to its distinctive shape, was once described as "one of the grandest objects in Lakeland and one of the best known" by renowned guidebook author Alfred Wainwright.
It attracts walkers and tourists from all over the world and can be seen over a wide area of northern Cumbria.
Lord Lonsdale said: "My family have owned Blencathra and its manor for over 400 years, so the sale of this iconic property will be a great loss.
"However, we need to realise capital for inheritance tax following the death of my father in 2006 and our aim is to retain the core portions of the Lonsdale Estates intact as far as is possible."
John Robson, who is managing the sale of the mountain, said it was a "once in a lifetime" opportunity to buy "one of the jewels in the Lake District's crown".
Comparing the mountain-buying market to that of jewellery and fine art, Mr Robson said he expected the buyer to be someone looking for something to pass to future generations.
"Someone who obviously has a certain amount of disposable income and something they really want to pass onto future generations," he said.
"They will want to own something in the Lake District that is easily recognisable and it's a similar market to jewellery or a landscape painting."
He told the BBC the mountain was unlike anything he had dealt with before.
"If you were selling a 2,500 acre farm it really wouldn't be anything to write home about, other than a nice farm," he said.
"Here, you've got something you can look at - a landscape."
Related Internet Links
The BBC is not responsible for the content of external sites.