Roosecote Sands pipeline work hampered by low tides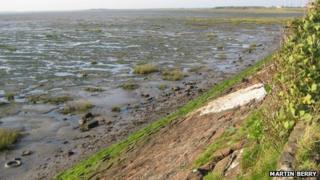 Engineers installing a pipeline on the Cumbria coast are facing problems to finish the project before the wading birds return in the autumn.
United Utilities has begun building a two mile (2.5km) pipe to carry treated wastewater from its plant at Roose safely into Morecambe Bay.
It will replace the outfall pipe which discharges into Roosecote Sand mudflats, a special conservation area.
Work can only take place during low tide and must be complete by October.
Project manager Sean McGahan described the work as "a challenge".
The new pipe will run under the mudflats next to the sea wall coming out into the side of Walney Channel.
Mr McGahan said: "We've done an awful lot of planning to make sure we can do this work safely and with respect for local people and the environment.
"We're working around the overwintering season for birds and will be liaising closely with the port authorities when it comes to working in the channel."