Tongue-tie babies helped by Cumberland Infirmary clinic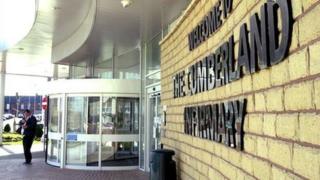 Hundreds of babies a year will now be treated locally for tongue-tie following the launch of a service at a Cumbrian hospital.
About 5% of newborns have a tight piece of skin between the underside of their tongue and floor of their mouth.
It can affect breastfeeding as it is hard for them to attach properly to their mother's breast.
The service at Carlisle's Cumberland Infirmary means families no longer have to travel to Newcastle.
It is estimated that about 200 babies annually will benefit.
Doctors carry out a tongue-tie division, which involves cutting the skin.
Health chiefs say it is a "simple and painless procedure that usually resolves any breastfeeding problems straight away".
The clinic is now running every Friday.